Albert Capellas is recalling his time as Peter Bosz' assistant at Vitesse. "We would spend our afternoons just talking about the game," he tells Sky Sports. Capellas wanted to know all about Dutch football. Bosz would want to hear stories about Barcelona.
Capellas had worked at La Masia, Barcelona's academy, for over a decade, coaching Andres Iniesta, among others. After Vitesse, he would go on to be Bosz' assistant at Borussia Dortmund. By then, the pair had devised their own code words for the game.
"I know he is still doing it now. We were trying to create a language to help the players to understand concepts as quickly as possible. For example, we had the five-second rule. When you say five-second rule, every player on the pitch knows what it means."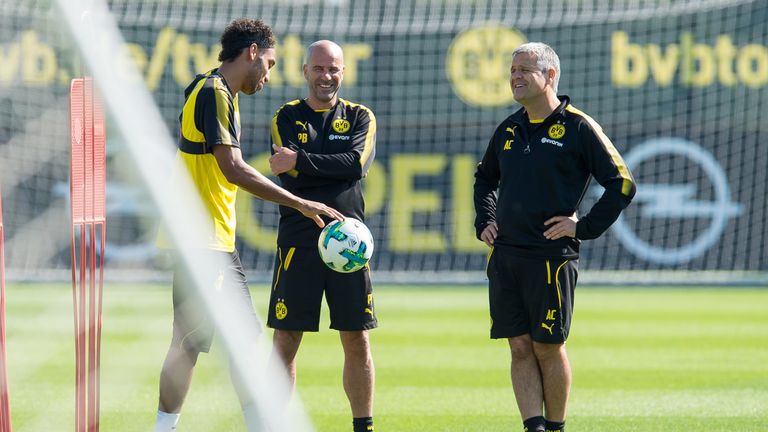 The idea was to win the ball back as quickly as possible. "Peter says it is now a three-second rule because he wants the pressure to be even quicker." The concept of 'klein' was another favourite – squeezing up the pitch once a longer ball had been played.
"Then there was the three-metre rule if they had chance to play a ball in behind. If there is no pressure on the ball, drop three metres. If they do not play a long ball, up three metres again. With that, you can solve a problem in one second. We worked on it a lot.
"You cannot imagine how many afternoons we discussed this. How can we say this to the players? How can we train it? I loved it and I know that he loved it as well. He is a fantastic coach." Bosz is showing that now having taken PSV to the top of the Eredivisie.
Capellas, 56, took different path as head coach of FC Midtjylland in Denmark before feeling the emotional pull of a return to Barcelona's academy. He describes Bosz as a coach who has inspired him but Johan Cruyff was his first, and most enduring, influence.
That influence lives on through friends and family. "Jordi Cruyff is an influence now. He has this exceptional way of thinking like his father had. It is a very specific way of seeing the game. He can see things differently, solving complex problems with simple solutions."
There is Quique Costas too. "He worked with Johan Cruyff in the 1970s. He spent 30 years at La Masia. I was his assistant with Barca B. The man did not know anything about videos, computers, statistics or pulse rates but he knew everything about the game.
"From him, I learned the things that you never learn in the books."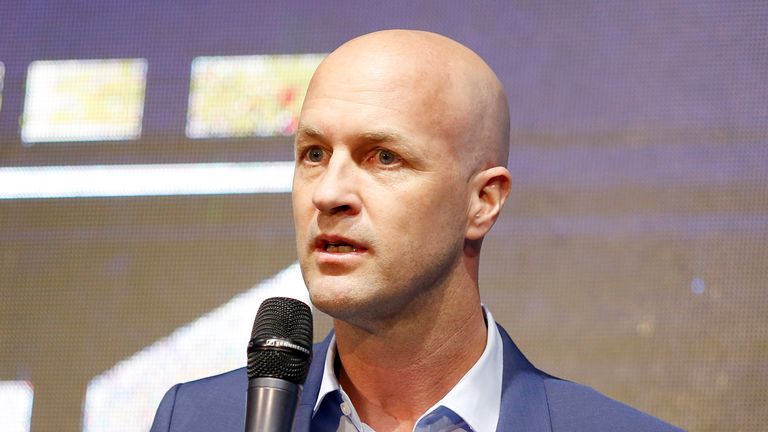 That includes understanding the need to treat players differently.
Cruyff is sometimes seen as the godfather of the modern game. And yet, while he admired the highly systemised football pioneered by protégé Pep Guardiola, he also believed in empowering players, indulging maverick talents like Romario and Hristo Stoichkov.
"Not all players want or need the same information," says Capellas.
"There are players who want to know everything. They need a lot of attention because they ask for a lot of information and they are capable of handling this information. But then there are players who are not ready to get all the information you are delivering.
"It is different coffee for everybody. Some prefer latte and others prefer espresso. Some do not like coffee. It is the same with the staff. How much attention do you give to the fitness coach so that they feel appreciated and that you care about them?
"That is the most difficult part of being a coach. You are working with people. Behind the footballer, behind the sporting director, the president, there is always a person. We have to think of that. Remember, it needs a lot of skill to lead humans not footballers."
Pep Guardiola sat down with Sky Sports' Gail Davis to discuss Jeremy Doku's form

Capellas remains steeped in the ideals of Cruyff.
"It is the way that we wanted to play football in Barcelona, in that certain way. You have to move the ball quickly. You have to play one touches. You have to play in triangles. When you lose the ball, you have to press to win it close to their goal as quickly as possible.
"We wanted the opponent to feel the pressure. Feel that they are not even close to creating a chance. Teams can concentrate for 15 or 30 seconds but 45 seconds to one minute? That is difficult. There is always one player who will lose concentration and create a gap.
"This is the way that I understand football."
On his travels through Europe, however, Capellas came to appreciate that there were other ways of seeing this game that he had fallen in love with. "I learned a lot from my time in Germany because they are very good at counter-attack, at open games," he explains.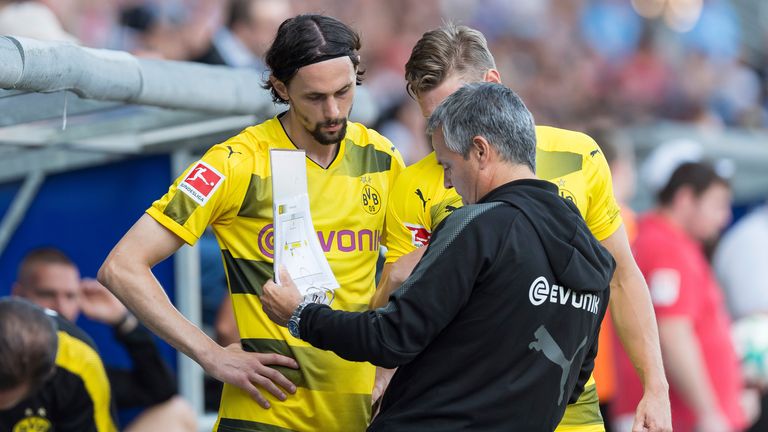 "I really had to think about the rest defence to avoid counter-attacks there because they always leave one or two players up front and that means you have to adapt. There are also different gaps when you are playing against eight defenders rather than 10.
"In the end, football is about how to gain an advantage." A pragmatist rather than a romantic, perhaps? "Possession football is not all one and two touches. Sometimes the space is there, you can dribble, you can find the two against one," he adds.
"Look at Pep. He is always adjusting his game. The fundamental concepts behind his approach are always the same but then he is creative with it. I prefer the word efficient to excellent. I like to play a kind of football that increases the chance of success.
"What is attractive football anyway? In England, it is one way. In Spain, it is another. In Brazil, it is another." At Brondby, where Capellas was the assistant manager of the current Brentford boss Thomas Frank, he was exposed to another way of winning matches.
"He is a fantastic person and a very good coach. He is clever. He has studied the game a lot and has a 360 degree understanding of it. He is also very curious and very hungry. He is a fighter who never gives up. At Brentford, he has found a club where he is comfortable."
Thomas Frank says the pursuit of perfection with VAR is the enemy of improvement

There are few similarities between Brentford and Barcelona but Capellas spots one. "What I like are clubs that have a clear strategy, that think about why they are doing something. Once that is clear, the vision and values are clear, everything is much easier."
Naturally, following Frank to England is an attractive option for Capellas. He has been a visitor to St George's Park for these past seven years, delivering an annual lecture to coaches as part of the Football's Association's Advanced Youth Award.
The challenge is to find "the right atmosphere" at a club. "To find that connection," he insists. "There are a lot of ways to play the game, a lot of projects. All of them are valid. What I love is the complexity of football and trying to make it simpler."
He laughs. "It is not easy to do that."
Capellas still wants to spend his afternoons trying to crack the code.