Mauricio Pochettino offered profuse apologies for his furious reaction to the final whistle in Chelsea's eight-goal draw with Manchester City. "I crossed the limit," he said afterwards.
The Chelsea boss, incensed to see one final attack cut short, had to be pulled away from referee Anthony Taylor having already berated the fourth official. "It's not a good image for me and for football, this type of behaviour," he added in his press conference.
No arguments there. Pochettino was booked and it could have been worse. For those of a Chelsea persuasion, though, particularly those in attendance on an exhilarating evening at Stamford Bridge, it only added to the sense of something stirring under this manager.
Chelsea are five points worse off than at the same stage of last season but a fanbase accustomed to the emotional intensity of Jose Mourinho, Antonio Conte and Thomas Tuchel are taking to Pochettino in a way they never did the anodyne Graham Potter.
FREE TO WATCH: Highlights of remarkable game between Chelsea and Man City

Recent results help, of course. The draw with Manchester City came only six days after the 4-1 win over Tottenham. But watching Pochettino from the press box on Sunday, just behind the home dugout, underlined the power of passion and personality too.
Long before his outburst at the final whistle, he could be seen screaming with rage at the sight of Manuel Akanji scoring City's second from a free header. Even after it, though, there were smiles and bear hugs for players, starting with his former charge Kyle Walker.
Those scenes were a reminder of his ability to build connections and the same quality was evident in Chelsea's performance. Beforehand, he had insisted they were no underdogs, even against this City. "We need to go there trying to be protagonists," he said.
The message clearly resonated in the dressing room. Chelsea tore into Pep Guardiola's side from the first whistle until the last. At the end of it, Pochettino used that same term – "protagonists" – as he talked up their bravery and attacking intent.
Jamie Carragher explains why Cole Palmer has become Chelsea's main man following his late penalty in the 4-4 draw with Man City

They are still down in 10th place in the table. The 3-0 win over Luton in August remains their only home victory in the competition since March and Pochettino emphasised on Sunday they are a long way – "away in the distance" – from where he wants them to be.
But the hope is that this performance ultimately gives them more than a point. "I think it's a starting point to build our confidence and believe more in the way we are working," said Pochettino.
And how could it not?
Chelsea are the first side in more than three years to score four or more goals against Guardiola's City in a Premier League game. In fact, across 278 fixtures in total since his appointment, they are one of only of only four teams to have done it all.
That it came so soon after a four-goal display against another strong opponent adds to the feeling of positivity.
Sky Sports' Melissa Reddy and Nick Wright reflect on a crazy game at Stamford Bridge and a Chelsea performance that hints at a bright future under Mauricio Pochettino

Having also drawn with Liverpool and Arsenal, Chelsea are unbeaten in four games against the 'big six' this season. They have taken more points off those sides than in the whole of the last campaign.
They are of course doing it following another round of extravagant spending in the transfer market. Vast sums have been invested in this group of players – albeit not all of it wisely.
But even the most lavishly assembled squads require the right guiding hand, someone to manage the personalities as well as the performances, and recent evidence shows Pochettino is providing it.
"What they have done in big games is a feather in the cap of the manager," said Sky Sports pundit Jamie Carragher on Sunday.
"The best thing about Chelsea right now is Pochettino. It is not the players or the owners. It is the manager they have got."
Jamie Carragher lauds Mauricio Pochettino's Chelsea impact and his results in the big games so far this season

He has certainly got them playing like a Pochettino team.
On Sunday, they pressed ferociously, their tenacity summed up by the tireless Conor Gallagher, who ran further than 12km for the fourth game this season. Indeed, the level of intensity was not unusual. Chelsea rank top this term both for high turnovers and pressed sequences. Only Spurs have made more sprints.
There have been frustrating afternoons in front of goal. Chelsea have laboured against sides set up to sit back and frustrate. They have failed to score in a third of their Premier League games this season.
But the goals are flowing now and the intent has been apparent all season. Chelsea are creating more, shooting more, and forcing their opponents deeper. They are, for the most part, entertaining to watch.
Even that feels like a triumph after what went before.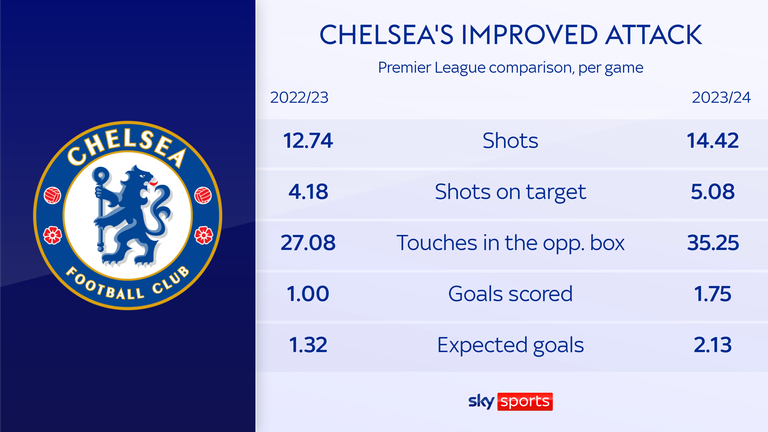 Pochettino had a point when he said, after Sunday's game, that Chelsea deserve to be far higher in the table than they are. Statistically, they have created better scoring chances than their opponents in every Premier League game bar one this season.
Those underlying numbers were written off as a quirk earlier in the campaign, a consequence of a comparatively kind fixture list. But the games have got tougher and the pattern has continued.
Now, only Liverpool have generated a higher total of expected goals this season. Only four sides – Arsenal, Manchester City, Newcastle and Liverpool – have allowed fewer expected goals against.
According to Opta's expected points model, Chelsea should be six places and seven points better off than they are. It is not for nothing, then, when Guardiola says, with "no doubts", that he sees them challenging for the title again soon.
It all points to an upward trajectory and the same feeling of optimism could be felt in the atmosphere that gripped Stamford Bridge on Sunday. The emotions were fuelled partly by a sense of injustice over refereeing decisions, but also by a manager ready and willing to fight Chelsea's corner. Even if it means crossing the limit.