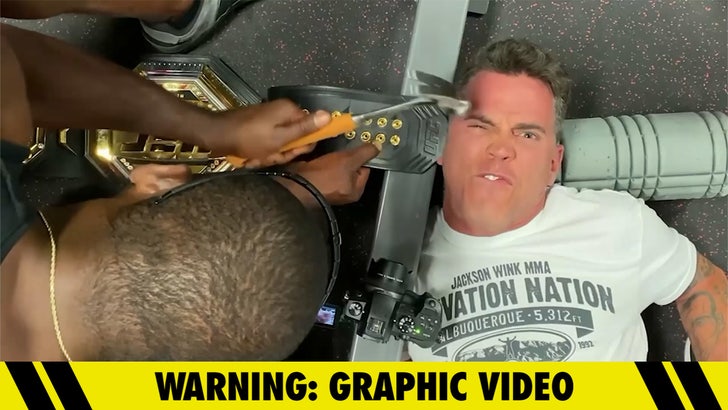 Steve-O's Bucket List
Steve-O is making UFC history, thanks to heavyweight champ Jon Jones — 'cause we're pretty sure a UFC belt's never been paired with a hammer to smash someone's ear!!!
Check out the insane clip, if your stomach can handle it — the "Jackass" star was chilling with Jon in Albuquerque when they came up with the crazy idea for Jon to try to give Steve cauliflower ear.
It's a gnarly deformation of the ear wrestlers and combat fighters commonly get from competition, but Steve-O took a short cut — laying his right ear under Jon's belt and having Jon literally hammer the belt.
It took a few swings, but as expected, Steve's ear quickly became a bloody mess.😱
The stupid human stunt is part of his 'Bucket List' multimedia comedy special, which dropped on Tuesday — and Steve describes it as a compilation of things he wasn't able to do on "Jackass."
Steve-O says he worked on this project for 5 years, and got comedian Bill Burr for the opening sequence, and he dropped more than $150k just on the production of that 90 seconds of footage.
Waiting for your permission to load the Instagram Media.
Steve-O says he tried shopping the special around to numerous different streaming platforms, but it was just too intense … so he just released it independently on his own site instead.
Check it out if you want, but heed the warning, it looks like some folks in his live audience passed out watching the graphic footage. Take this ear footage as a test of your constitution!