When Macauley Langstaff was plugging away in the 11th tier of English football, you can't imagine he thought a time would come when he would be playing the role of antagonist to a pair of Hollywood stars.
But that is just what has happened, albeit inadvertently. Langstaff was the man who spearheaded Notts County's National League promotion push last season, up against a Wrexham side owned by Ryan Reynolds and Rob McElhenney.
In a recent episode of the documentary series 'Welcome to Wrexham', Reynolds and McElhenney were standing pitchside before a mammoth battle between their side and their promotion rivals last April.

Live EFL



Saturday 18th November 12:00pm

Frustrated that Wrexham's record points tally hadn't been enough to see them saunter towards the only automatic-promotion spot in the fifth tier, the pair were humourously bemoaning the efforts of a certain striker who would be lining up in black and white against them that day.
"Macauley Langstaff, he can **** off," said McElhenney, before Reynolds added: 'Yeah, god that guy is good. He's handsome as ****. He looks like he could be in Peaky Blinders."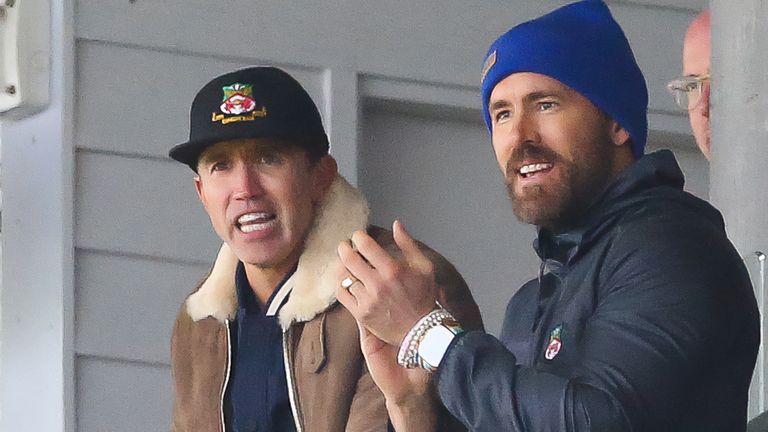 Since Notts County also went on to secure promotion, Langstaff can now enjoy every surreal minute of the National League battle that will go down in history.
When Ryan Reynolds and Rob McElhenney are calling you handsome and saying you should go on Peaky Blinders, you can't help but be complemented by that," he tells Sky Sports. "It was brilliant.
"I've not actually watched [the documentary] yet. I'm not sure I can because of what happened last year, and how we lost out in the end. But I've been sent the video by numerous people. It was really funny, I really enjoyed that 20-second clip of me."
It is no surprise he caused such frustration. Wrexham finished on 111 points last season, but Langstaff's 42 goals took Notts County to 107.
The drama of the promotion race caught international attention, and has provided superb exposure for the lower leagues to an overseas audience.
It has also provided Langstaff with some of the spotlight as well. He has become hot property on the pitch for his goalscoring exploits, and for his affable personality away from it.
He possesses a confidence in himself, as well as a humility that stems from being released by his boyhood club Middlesbrough at the age of 12.
"To get told you're not good enough at such a young age was heartbreaking, but now I see it as a positive I was released so early because it gave me time to bounce back," he says.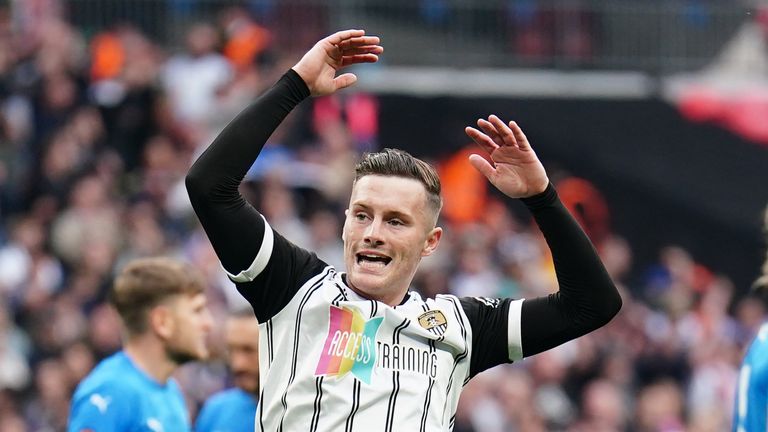 "I never believed I'd be a football player. It wasn't even an option for me. At 18, I was playing in the 11th tier and studying at college.
"So to have the years I've had since have been quite incredible. I'm proud of it. Some people go through the academy routes, they have that ability from an early age and they know they'll make it.
"I didn't have that, so I appreciate it even more. I don't want to go back now. I want to keep going through the levels. I appreciate coming in every day. It was my dream.
"I don't think I've fully taken it in, and I don't think I will until I finish playing. My journey has been different to most. I've not taken the academy route, or the professional route.
It's unusual to see someone come from the 11th tier to the EFL. It's been a fun journey, a roller coaster. It hasn't always been perfect, but I don't want it to stop. Even though I've come so far, I'm not comfortable playing in League Two. I want more people to look at my story, to make it even more readable. Hopefully it can inspire them as well."
Notts County striker Macaulay Langstaff says he wants to score more than Erling Haaland and replicate Jamie Vardy's journey from non-league to the top of the game

It is a journey similar in its early stages to the one of Jamie Vardy. The most famous example of a player rising from the depths of non-league to stardom. Langstaff, admittedly, wants those potential comparisons to be downplayed a little.
"His story can be thrown about a bit too much in non-league, because not many players do what he has," he says.
"But of course you take inspiration from it. Jamie is similar for me in how we play. I'd love to replicate his story, and if I could get anywhere close to it, I'd be very happy."
One comparison he has always enjoyed, however, are those with a certain Manchester City superstar. Langstaff's goalscoring feats for Notts County last season saw him coined 'the non-league Erling Haaland'.
He smiles again as he hears the nickname.
"No one calls me that anymore now I'm in the EFL! But when you see your picture alongside his, how can you not like it? It's brilliant publicity," he says.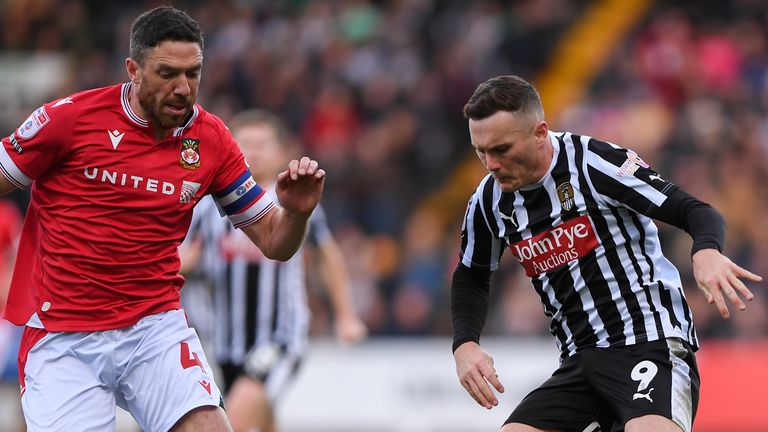 "I'm not comparing myself to him in any way. He is my favourite player to watch, but we are levels apart and he's probably the best striker in Europe.
"But the one motivation I can take is from his numbers. To try and stay ahead of him, because if I'm scoring more than Erling Haaland, even at a much lower level, then I'm doing something well.
"I can't beat a 6ft 5ins defender in the air and head one in! I'm nothing compared to his physical attributes, because he's frightening.
"But what I can do is replicate his movements to get into those positions to score goals. His timing at how he arrives in the box, he's the best at doing that."
This season so far Langstaff has scored 11 goals, and Notts County are firmly embedded in the race for promotion.
He believes the battle last season – that saw them eventually reach League Two via the play-offs – held them in great stead for the current campaign, even if he didn't see it that way at the time.
"I don't think throughout the season we enjoyed it fully," he says. "When you're going toe-to-toe all season and with it being so competitive, it's hard to enjoy it.
"But now looking back on it, I wouldn't change it for the world. It pushed us all and made us all better players and people. Competitiveness helps you grow and makes you work harder.
"Then, when you get through a play-off campaign where you're 2-0 down in the semis and win 3-2 in extra-time, and then come from behind to win on penalties at Wembley, it made us more resilient and put us in really good stead for this season."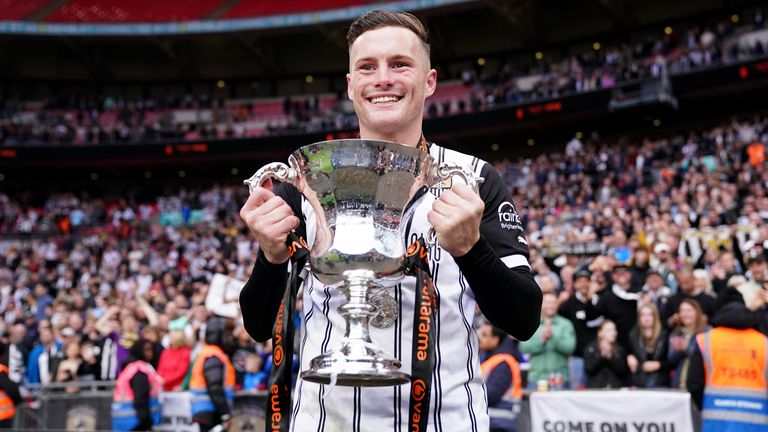 Langstaff, now 26, is steadfast in his belief in his own ability, and is thriving in his first ever EFL campaign.
"I always believed I could, but you never know until you're in the position," he says. "In the last couple of years I've made the step up from National League North to National League, and there were the same questions.
"I proved I could make that step up, so going into this season I was confident in the belief I could do that again.
"I knew I was going into League Two with a top team knowing I'd get chances, and if I get chances I back myself to score goals.
"I don't like setting targets, because if you do you and then if you reach them quicker than you thought you can become complacent and happy that you've hit it. I know it's a cliche, but I take every game as it comes and then try and reflect at the end of the season."
And with Langstaff spearheading the attack, there is real belief at Notts County they can make it back to League One for the first time since 2015.
"I've had back-to-back promotions and I want another one," says Langstaff – who also helped Gateshead into the National League the season before joining Notts.
"We thrive under pressure. So why not put that pressure on? I'd be lying if I said we were happy to just consolidate in the league.
"We weren't overlooking the league. We always knew it would be a big step up, but with the quality we have and the manager we have, we knew we could compete at the very top.
"We know there's pressure, but we put pressure on ourselves. We said we wanted to compete and get promoted again, and hopefully we can hit that target."
Hitting targets in all forms is simply what Langstaff does.
Watch Notts County vs Bradford City live on Sky Sports Main Event and Sky Sports Football from 12pm Saturday, kick-off 12.30pm.
Stream the EFL and more with NOW