Marlon Wayans publicly supporting his transgender son and being open about his own learning process as a parent is earning him praise from leaders in the LGBTQ+ community.
The comedian is being applauded by honchos at the National Center for Transgender Equality, the National Center for Lesbian Rights and the LGBT Centers in San Francisco and Los Angeles … they say he's setting a great example for parents of transgender people.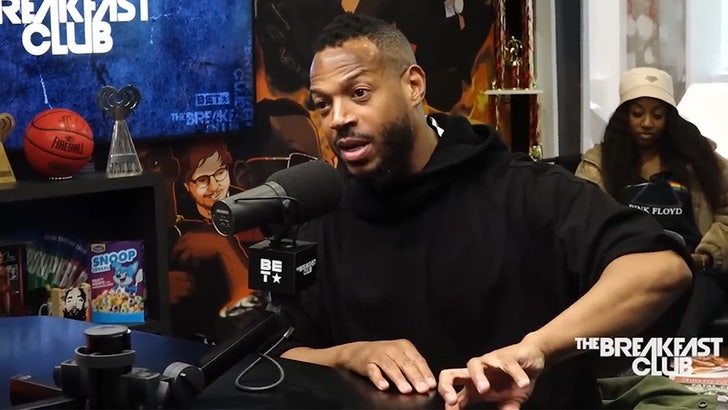 The Breakfast Club
Remember, Marlon recently revealed his eldest child is transgender and now identifies as a male with the 23-year-old transitioning from Amai to Kai.
Marlon's calling Kai his son … and says it took quite a bit of education to go from complete denial to loving and accepting his kid.
Rodrigo Heng-Lehtinen, the Executive Director for the National Center for Transgender Equality, tells TMZ … "We celebrate Marlon Wayans supporting his trans son and showing parents everywhere that acceptance is possible, even when it's hard … let your child know that you love and support them, no matter what. It's amazing for Marlon to model that for other parents out there who may not understand it yet."
As you know, trans rights are a lightning rod right now … making Marlon's acceptance even more important in the eyes of LGBTQ+ groups.
Dani Siragusa, Director of Development and Communications at the SF LGBT Center, tells TMZ …"Marlon's unconditional support of Kai is so powerful because in the face of anti-trans hate, society needs to continue seeing examples of beautifully diverse families, and our communities need to continue uplifting stories of trans-affirming love between parents and trans children and vice versa."
Meanwhile, Shannon Minter from the NCLR tells us … "In the current political climate — with so many anti-transgender bills being pushed by hostile legislators — being the parent of a transgender child can be lonely, difficult, and even frightening. By publicly embracing his transgender son, Wayans has provided a much-needed beacon of hope and light for these families. He is a powerful reminder that all young people need adults to support and protect them."
Closer to home, Marlon's being praised by the L.A. LGBT Center for not only being open about his transgender son, but also tackling the topic on his new comedy special, "Rainbow Child."