Neal Maupay's loan move back to Brentford on Deadline Day proved there are still rare occasions in modern day football when a transfer can simply pop up out of the blue.
There was no prolonged commentary on social media – and thus time for edgy opinions to be aired – it just happened – and, in fairness, it came as a shock.
Even the Bees – famed for their lateral thinking in every aspect – would surely not be interested in a player who scored just once in 27 Premier League games for Everton in 2022/23, would they?
More to the point, how would the Brentford fans react to the Frenchman coming in as a stop-gap replacement for the banned Ivan Toney? Fortunately, they welcomed him with open arms. His £20m departure to Brighton in 2019 was amicable and he went with their blessing.
Brentford's Neal Maupay opens up about his difficult season at Everton last term and why he's ready to bounce back

No one was more relieved at the way things had worked out than Maupay himself. The smile on his face when he spoke to Sky Sports from the window of his car after the deal was wrapped up said everything and more.
His first season at Goodison Park could hardly have gone worse, not just given his personal struggles in front of goal, but for the fact the Toffees retained their top flight place by a margin of just two points.
There is nowhere more apt to start this exclusive interview, which takes place in a chilly dressing room a few paces from the press conference room at Brentford's Osterley training ground.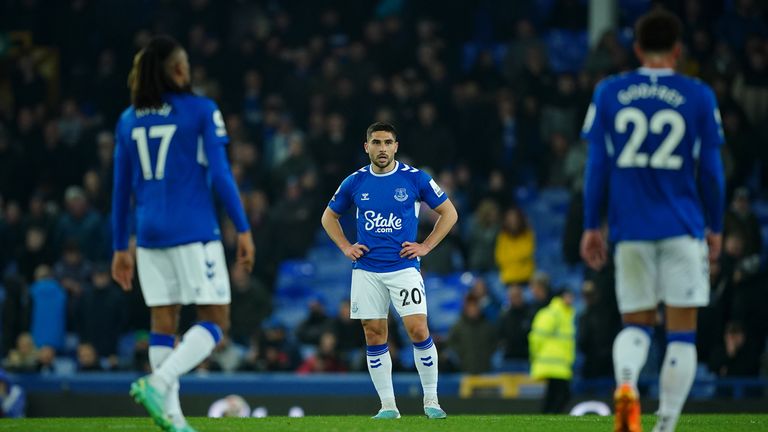 "I'm not one who is going to find excuses, I just think we as players weren't good enough – myself included," he says, frank from the outset.
"It was pretty clear after a couple of months that we were fighting for our lives, so there was no big expectation apart from saving the club. Then we changed manager, we changed system and there was a lot of stuff going on at the club, so that didn't help.
"But, at the end of the day, we are on the pitch and we had to do the job. We got it done in the end and it wasn't pretty and it wasn't a nice place to be because, on the last game, we needed a win and we scored literally at the end of the game, otherwise we would have been down.
Brentford's next five Premier League fixtures
Arsenal (h) – November 25, 5.30pm
Luton (h) – December 2, 3pm
Brighton (a) – December 6, 7.30pm
Sheffield United (a) – December 9, 3pm
Aston Villa (h) – December 17, 2pm
"As a striker, you need confidence, you need to score goals and I didn't. I scored in my second game at Goodison and I thought it could be a good season, but for multiple reasons, it didn't work out. I didn't play much, but when I was on the pitch, I wasn't the best version of myself. I didn't find my best form.
"I'm always honest and tell the truth; last season, I didn't enjoy myself. I didn't enjoy my football and life up there was tough. The people around the club, the fans, made my life really difficult."
The mood change is unmistakable as Maupay is taken back to the moment he was re-introduced to the Brentford fans at the Gtech during the interval of the 2-2 draw with Bournemouth on September 2.
Just as the Millwall fans chant 'Milllllll' from the stands at The Den, the West Stand bellowed his first name as he walked onto the pitch after being presented by stadium announcer Peter Gilham.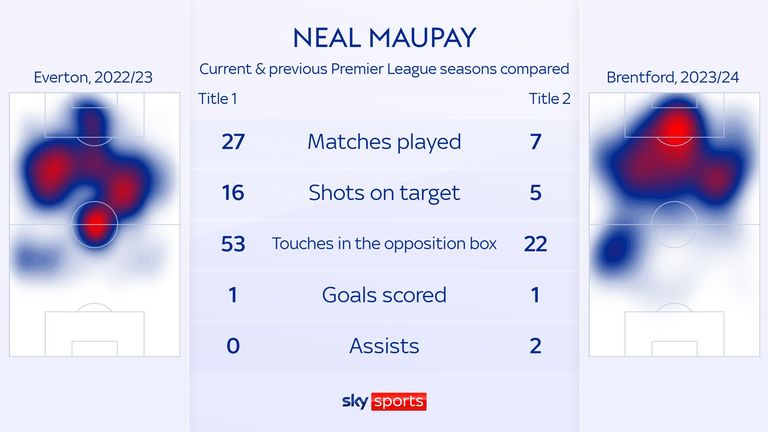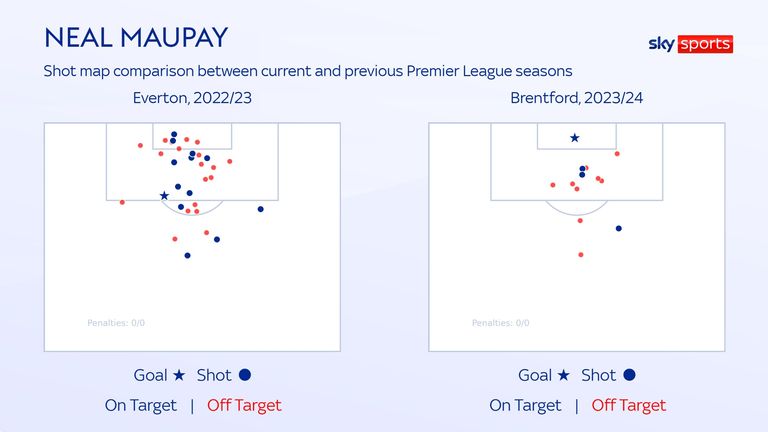 "It felt amazing, I can't lie," he continues. "It was such a relief to be in a place where there are people that care about each other and care about me, in a place I love.
"Having basically the whole stadium singing my name and just seeing them happy I was coming back meant a lot for me. I really love this club, I really love these fans. I said it before, but when I was in France, this club gave me my chance to come over and play football in England and show my talent. I will forever be grateful for this opportunity."
In football, comfort and familiarity are perhaps more important than talent. It is already clear Maupay has adapted back into his surroundings well and it is clear his confidence is back on the rise, too.
That was boosted tenfold when he scored his first goal in over 13 months in Brentford's thrilling 3-2 win over West Ham on November 4. There were assists in the wins over Burnley and Chelsea before that, too.
FREE TO WATCH: Highlights from Brentford's win against West Ham in the Premier League

"I've been doing well since I've come back and I knew it was only a matter of time before I scored my first goal, which was definitely a big one for me.
"That's my job. I'm a striker, I've scored goals all my life, so when I don't score for a long time, of course it's in my head. To score at the Gtech in front of our fans and my family was something special and we got the win as well. It was the perfect day."
Maupay has made only two starts since his return, but at the start of 2024, all being well, he will be the man spearheading Thomas Frank's attack, firstly due to the fact Bryan Mbeumo and Yoane Wissa are almost certain to be heading to AFCON with Cameroon and DR Congo respectively.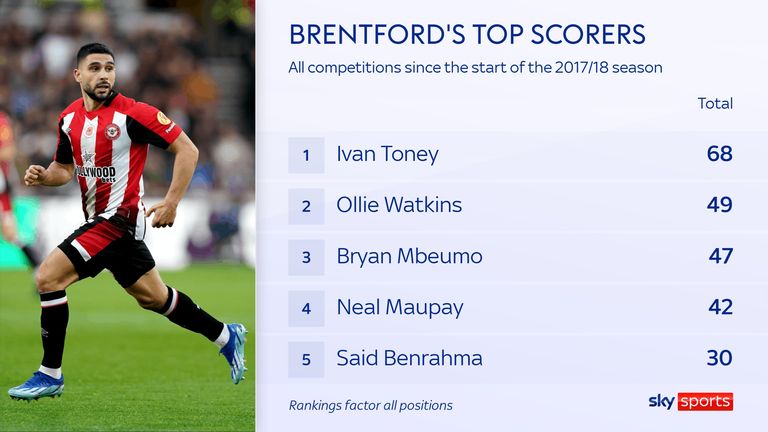 "From a team perspective, to lose Bryan and Wissa for a few weeks in January is not something we want, but we can't do anything about it.
"It's us the players that are here [who need] to step up. I'm ready for it. I will embrace this as much as I can and I will give me absolute best. I trust my team-mates and myself to do well when these two will be away. We have the quality to go through this period."
More pertinently, though, it remains to be seen whether Ivan Toney will play for Brentford again once he completes his ban for betting offences on January 16.
The club value Toney – on the radar of Chelsea and Arsenal as well as a number of top clubs across Europe – at £100m and fully intend to keep him at least until the end of the season.
The pair both scored in a behind-closed-doors friendly against Watford last week.
Brentford's Neal Maupay would relish a potential strike partnership between himself and the in-demand Ivan Toney

"We have [discussed a partnership] a little bit and when we are on the same team on the training pitch, we link up well. We are two different players with different qualities, so I can definitely see myself and Ivan playing together.
"It's up to Thomas to decide how we play, but it's no secret Ivan is a top striker. He scored 20 goals last season and I think a lot of teams would love to have him, so we are looking forward to having him back.
"Sometimes you've got to be realistic. Ivan has had some very good seasons in the Prem with Brentford. I'm sure there will be some clubs interested in him, but we want to keep him. A striker who scores a lot of goals in the Prem is rare
"We have him, so we will see, but hopefully he stays with us."
Maupay's loan move to Brentford includes an option to make the move permanent. It seems the player himself would exercise that immediately, were it up to him.
Brentford's Neal Maupay on why he is hoping to make his loan move from Everton to Brentford permanent

"I want to stay here for the reasons I said before and also because this club gave me so much, I want to help this club in the Premier League and be part of its history," he adds.
"There is something special at this club between the players, the staff and everyone at the club. Everyone loves to be here, loves to work hard and there is very good togetherness. I'm sure we will have success this season.
"I love everyone here at the club and I feel really good. I feel I can be myself here. For now, it's a loan, but I will make sure I do everything I can to prove to Brentford that I can be here and stay a Brentford player for a few more years."