It's the official end of an era — Sarah Burton is parting ways with Alexander McQueen after almost three decades at the House, of which she led as creative director for the past 13 years.
"I am so proud of everything I've done and of my incredible team at Alexander McQueen. They are my family, and this has been my home for the past 26 years. I want to thank Francois-Henri Pinault for believing in me and offering me this amazing opportunity. Above all I want to thank Lee Alexander McQueen. He taught me so much and I am eternally grateful to him. I am looking forward to the future and my next chapter and will always carry this treasured time with me," reads Burton's statement.
The end of Burton's time with Alexander McQueen means that, for the first time, the creative reins could potentially be handed over to someone outside of Lee McQueen's circle. Before being appointed as creative director, Burton was considered to be McQueen's right-hand person and the only one possible to carry on the legacy of the house and its founder.
McQueen may be more famously known for his otherworldly and provocative creations on the runway (more so evident on his womenswear collections) but Savile Row techniques and constructions were key tenets of his menswear collections. McQueen's core menswear formula quickly became tailoring embellished with the disparate elements and flourishes, and Burton continued the execution. Eventually, the menswear line evolved in tandem with its womenswear counterpart, creating a cohesive vision that partly contributed to Alexander McQueen becoming one of Kering's big moneymakers.
READ MORE: The Latest from New York Fashion Week
Burton is scheduled to take her final bow during Paris Fashion Week later this month. In lieu of the end of her tenure, we take a look back at her evolution of Alexander McQueen's menswear aesthetic into the force of craftsmanship and creativity that we know today.
The Beginning
Burton's early work with the House focused on McQueen's Scottish roots as well as elements of British heritage. The silhouettes were conventional but peppered with instances of exaggerated volume and deconstruction.
Nature-inspired Motifs
Flora and fauna elements were highly favoured by McQueen. Burton started incorporating them into the House's menswear universe through prints and embroidery — the former gave rise to insect wings that adorned suiting in a myriad of colours and combinations.
The Pattern Era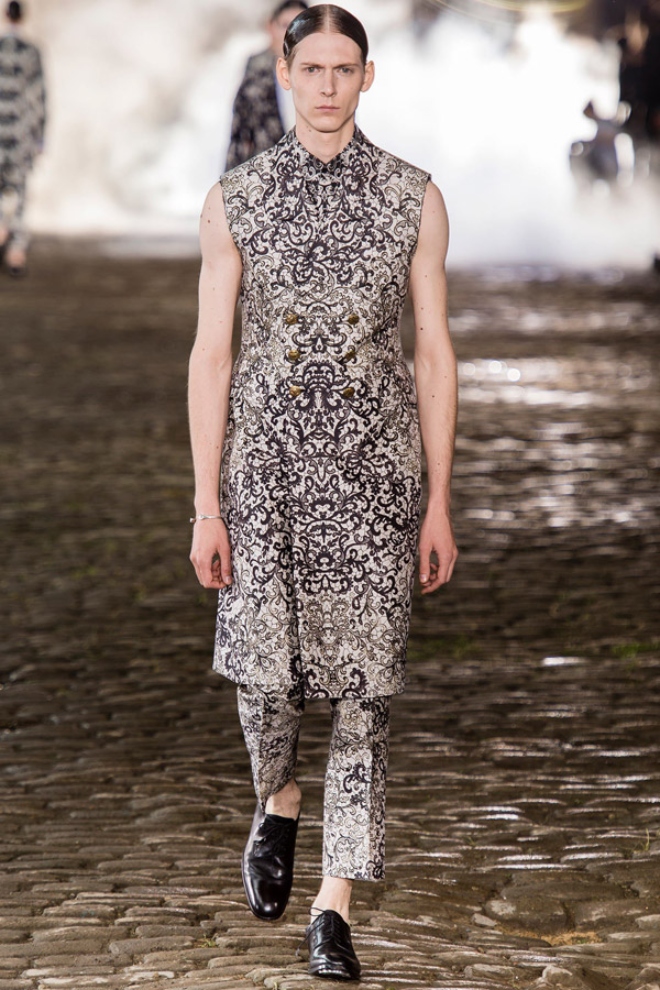 Suiting and tailoring began to take a turn with conventional colours and minimalism substituted for mosaic-like prints as well as traditional jacquard and heritage patterns. This was the beginning of a more vibrant interpretation of tailoring at Alexander McQueen.
The Introduction of Embellishments
While embellishments weren't completely new for Alexander McQueen menswear, Burton began to include more metallic beading and embroidery, amping up the level of craftsmanship in the House's menswear pieces. They were starkly employed against dark fabrics and often juxtaposed to streamlined cuts.
Contemporary Tailoring
Tailoring evolved to include bolder prints that would enveloped the entirety of the suit. At the same time, Burton nipped waists and offered elegance in the form of sharply cut silhouettes.
English Regality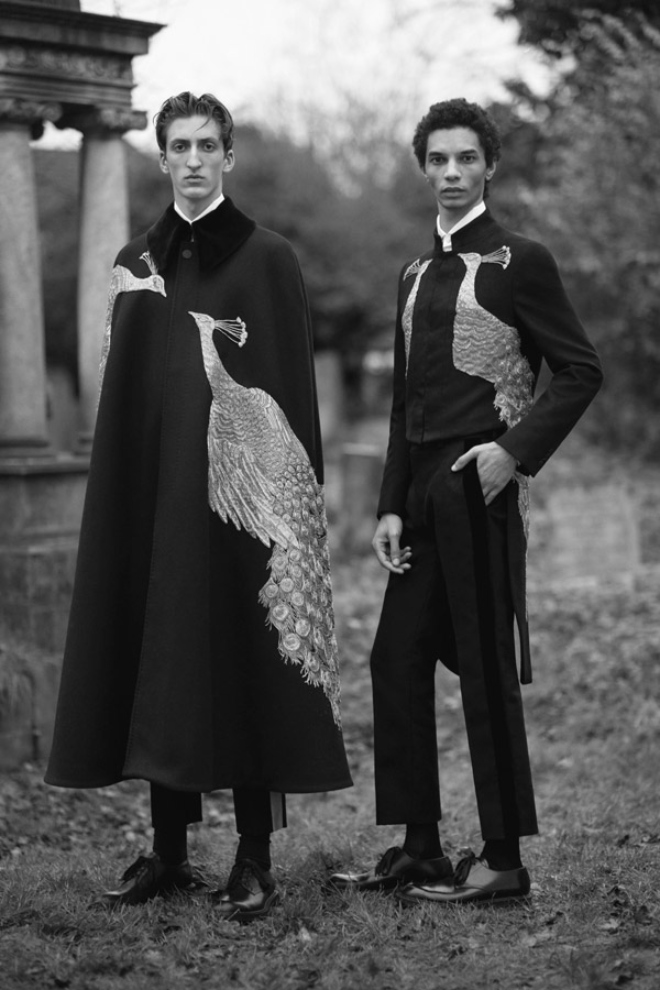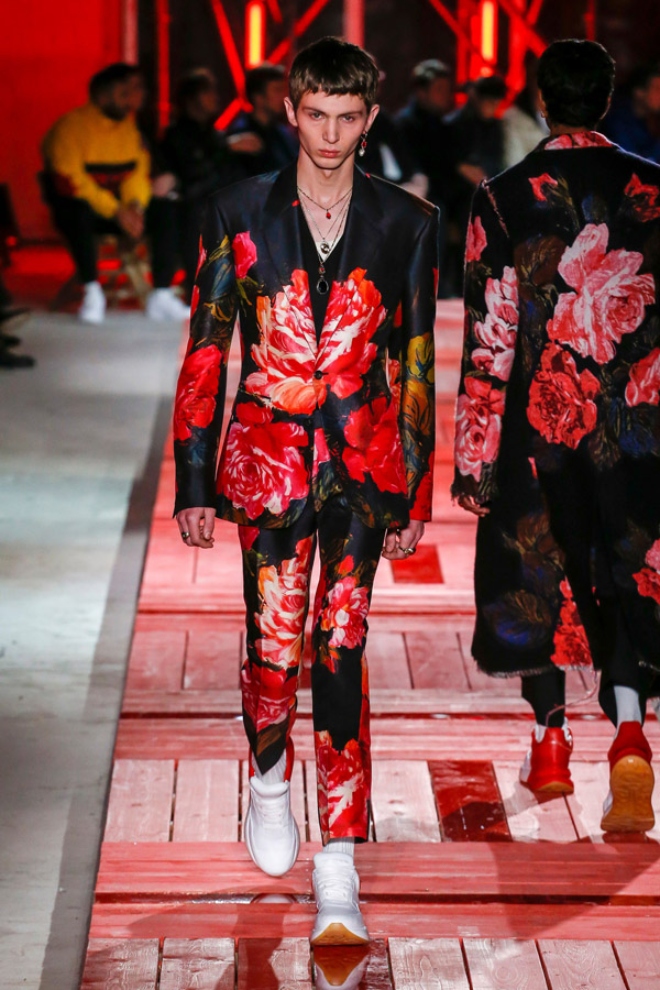 British heritage, however, remained core to the House's identity. Burton sought to continuously include historically British motifs while all the more grounding them with contemporary touches, such as pairing elements of English military dress with sneakers.
The Heightening of Craftsmanship
The level of craftsmanship at the House saw a noteworthy leap with embroidery becoming a key focus. Not only were they employed throughout each and every piece, they were styled with accessories and jewellery to match — a more-is-more aesthetic that came across as "haute couture punk".
The Adaptation of The Everyday
Sportier elements of dress were given the Alexander McQueen treatment of blown-up sleeves and deconstructed silhouettes. Everyday pieces like knitwear and function-first utilitywear took on avant-garde forms that expanded the creative vision of the House.
The Blurring of Gender Lines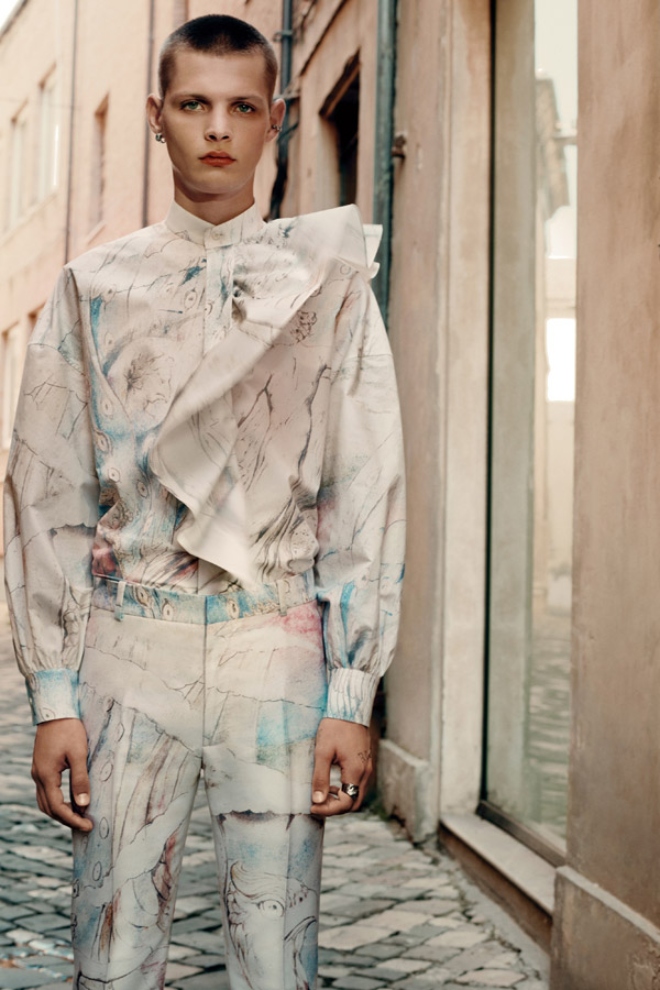 Gender boundaries may not have been a consideration for any Alexander McQueen creation, pre or post McQueen, yet it became increasingly evident with the inclusion of dress-like ensembles incorporated into the menswear line. Softer elements of flou became quite commonplace too, running in tandem with an increased focus on couture-level embellishments.
The Alexander McQueen of Today
Burton's final few menswear collections capture the collective essence of her tenure at Alexander McQueen. The blurring of gender, a steely focus on craft techniques as well as keep tailoring at the heart of it all have been continuously refined into a coherent House style. There's a certain element of timelessness to Burton's creations, marked by distinctive leitmotifs — the harness and the streamlined silhouette, for example — that have become today characteristically Alexander McQueen.
This article was first published on Esquire Singapore.
For more fashion stories, click here.