England boss Gareth Southgate refused to be overly critical of his players after they struggled to a 2-0 win over Malta on Friday night.
A first-half own goal and Harry Kane strike after the break saw England to a victory which ensures they win European Championship Qualifying Group C and virtually assures them of a place in Pot 1 when the draw for the tournament is made on December 2.
However, the home side – who had been hit by a string of injuries and withdrawals in the build-up to this match – didn't have a shot on target until just after the hour mark and were disjointed in their play for much of the game.
"It was a game where we didn't start well," said Southgate on Channel 4. "I've been in football a long time – if you don't start well, it's hard to pick the game up.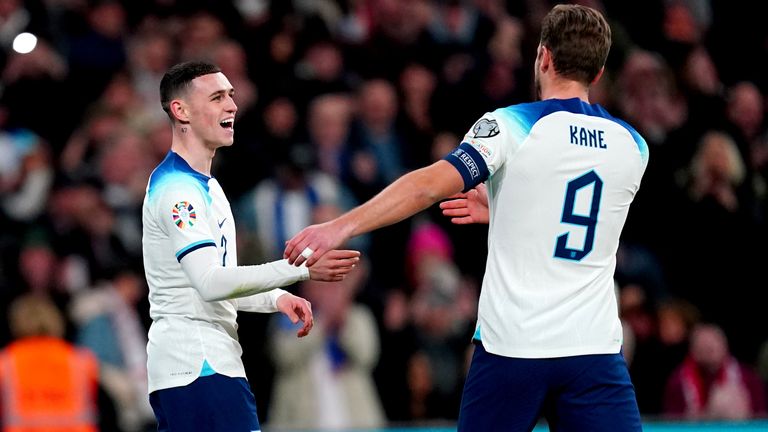 "We got a goal out of nothing, but the quality on the ball is not normally at that level and I think it was just one of those days where the boys knew they could win at a canter and we didn't really extend ourselves as we normally would.
"They have played so many matches and have done such a brilliant job that I'm not going to hammer them for that."
Speaking later in his press conference, the England manager added: "We were disjointed in our pressing at times. We were not the level we would want to be at. We were not the level that we need to be at.
Sky Sports News' Rob Dorsett and football journalist Peter Smith reflect on England's unconvincing 2-0 victory over Malta in Euro 2024 qualifying.

"But, equally, this group of players have been exceptional and I'm not going to start getting into their ribs too much about a performance like tonight.
"We made a few changes, we didn't hit the levels we would have liked to have but they managed to win the game. Not in the style we'd have liked for the supporters but, in the end, we've won comfortably, as we should."
"This group have been exceptional so I'm not going to criticise the players. We made changes, we managed to win the game but not in the style we would have liked for the supporters."
Despite an unconvincing 2-0 win over Malta, Bukayo Saka is pleased that England moved ever closer to securing one of the top seeds at Euro 2024.

Despite an acceptance his team were below par, Southgate did pick out the performances of Trent Alexander-Arnold – used in midfield – and Phil Foden as highlights.
"I thought [Alexander-Arnold] used the ball really well," Southgate said. "He has some outstanding quality, him and Phil in the first half were the two that really looked like opening the game up for us.
"I thought Marc Guehi was [also] very good at the back – he's got another game under his belt and looked very, very calm. And then the changes brought some quality as well.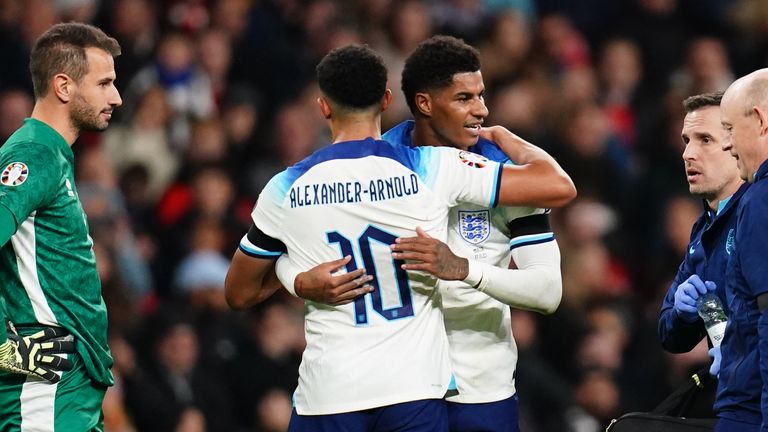 "In the second half we could have scored more. We obviously didn't create as many chances as we wanted to."
Southgate and England will continue their progress towards the Euros in their final group game away to North Macedonia on Monday.
"We've had a really good calendar year and we want to finish it well," he said. "We want to go into the tournament unbeaten. We have some tough games coming up. It's good for us to be away from Wembley again, in a challenging environment because that's where we'll be next summer.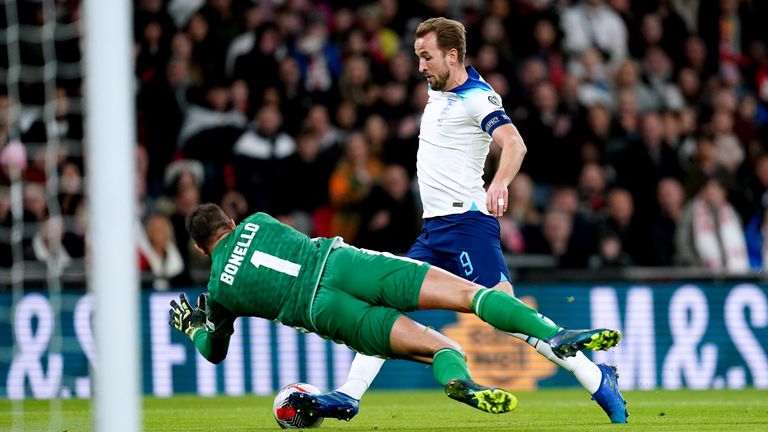 "It's not a worry when a player has so many matches, you almost have to self-regulate. We had to be at a higher level to beat Italy. The reality of football is you can't be at the same level all the time. I know there are times when sub-consciously you know the level you need to be at to win, and I've been there.
"Against the teams we're going to play in March, we wouldn't get away with the level we produced tonight. We're trying to manage our team selection with the changes we made. We knew this week would be difficult given we've already qualified.
"I couldn't get the players onto the pitch until Wednesday and as a consequence we were flat."
What's next?
England's final Euro 2024 Qualifier is away to North Macedonia on Monday – kick-off 7.45pm.