Raheem Sterling's performance against Manchester City on Sunday was further evidence that the Chelsea forward is showing his best form in years. On the face of it, his exclusion from Gareth Southgate's England squad makes little sense.
Sterling ranks top of the Premier League for touches inside the box and attempted dribbles, his appetite underlined by the fact that he is also third for winning back possession in the final third. Phil Foden and Jack Grealish were on the receiving end of tasty challenges.
But while his former City team-mates retain their places in this England squad – alongside Marcus Rashford, who has more red cards than goals in his last dozen games for Manchester United – Sterling finds himself outside that circle of trust. And that is everything.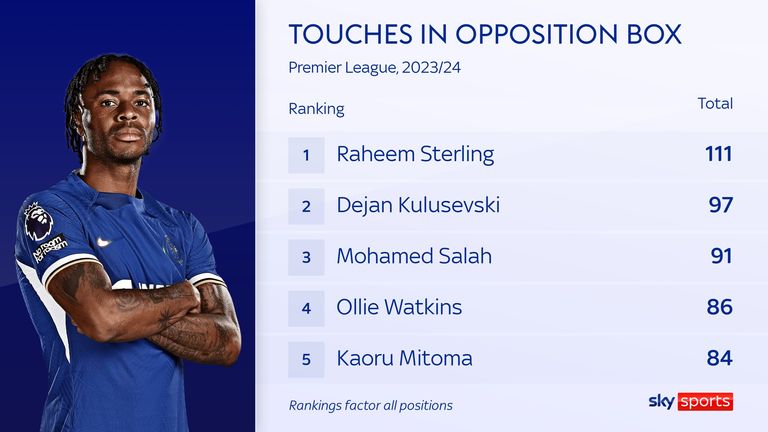 Rashford's form has dipped badly but Southgate will remember what supporters might forget – that he scored in his last game for England, that impressive win over Italy. It is a lot more difficult to be dropped from this squad than it is to earn a place back in it.
It is a strength of Southgate's England. That loyalty has fostered a team spirit previously lacking. And the decision to stick by Harry Maguire already feels somewhat vindicated given that the defender has now started eight consecutive games for Manchester United.
The concern is that it is also a weakness. Jordan Henderson, 33, is playing for a mid-table team in the Saudi Pro League but there is a sense that turning up for England duty with a spring in his step will be enough to retain his place all the way through to Euro 2024.
Long-serving international managers often do this. It is partly why there is such a long list of World Cup-winning coaches who struggled when trying to retain the trophy – they trusted in those who had delivered before rather than selecting the best players at the time.
There was a time when that worked in Sterling's favour. It was only December that he was named in England's starting line-up for their World Cup opener at a time when he found himself caught up in the malaise at Chelsea with many calling for him to be dropped.
He has not played for his country since Qatar and the situation has flipped, Southgate's loyalty now working against him. Rashford and Grealish will have the opportunity to find their form in an England shirt. On the outside now, all Sterling can do is wait.
O'Neil shows Lopetegui the way
Being inside the Allianz Arena in August to see Dani Olmo's delicious turn for the second of his three goals against Bayern Munich, the thought occurred that it might be the best goal one would see live all season. Pablo Sarabia changed that on Saturday afternoon.
The Wolves substitute's stoppage-time equaliser against Tottenham was a thing of beauty. A delicate touch with the right and then a brutal volleyed finish with the left before the ball had bounced. That Sarabia then set up the winner made it even better.
Check out all the angles of Pablo Sarabia's wonder goal for Wolves against Tottenham

Gary O'Neil has received deserved praise for his tactical nous but this latest high-profile victory also left many wondering what Julen Lopetegui makes of all this. Sarabia was his signing. So too was Matheus Cunha, the provider, and Mario Lemina, the other scorer.
The trio arrived earlier this year on significant wages and for a combined transfer fee in excess of £50m. Also in the Wolves line-up against Spurs were Craig Dawson and Joao Gomes, two more signings in that winter window who have become fan favourites.
The point is that for all the fuss over exits at Molineux, with Ruben Neves, Joao Moutinho and Raul Jimenez among those departing, a new team was being built. With Wolves closer to sixth spot than relegation, everyone, maybe even Lopetegui, recognises that now.

Monday 27th November 6:30pm


Kick off 8:00pm

Lessons as Girona lead LaLiga
The sight of Girona top of LaLiga having won 11 of their last 12 games in the competition brought back memories of a conversation in a Hay-on-Wye coffee shop earlier this year. It was a reminder that success requires plenty of patience as well as funding.
Girona being part of City Football Group detracts a little from the romance of this tale. But this is not a squad packed with superstar names. The 37-year-old former Middlesbrough man Cristhian Stuani remains their talisman. It is an outrageous accomplishment.
That coffee-shop chat was with Dr Ceri Bowley, the former head of methodology at City Football Group, who worked closely with their coaches. There is a lesson in how Girona's head coach Michel, now being celebrated for his fine work, has been supported.
Ten games into the 2021/22 season and Girona were towards the foot of Spain's second division having won only twice. Michel was feeling jittery. "It was strange because he kept asking me, 'Are you OK? Are you OK?' I told him to just chill," revealed Bowley.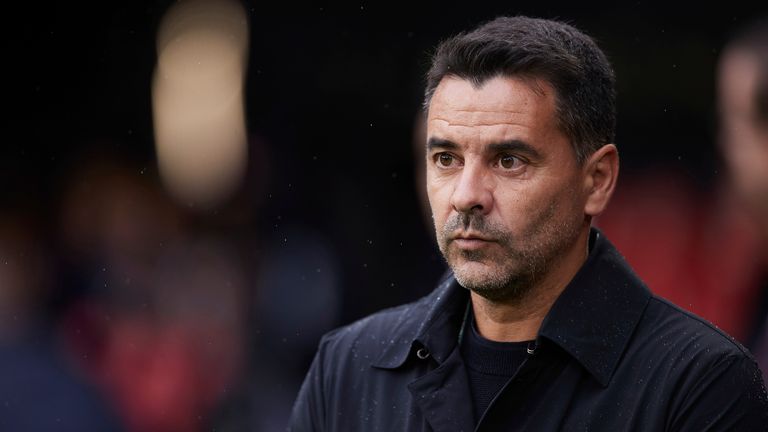 "We were looking at methodology, the journey you have to go on to win. We had won in Melbourne and Mumbai so we could see that we had reduced the age of the squad by four or five years and it was the first year that they were playing our game-model.
"It would have been so easy at that point to sack the manager and start again. But you could see the signs. If you can see you are getting so many penalty-box entries, you are getting chances but not taking them, at some point that stuff is going to turn."
Nobody could anticipate it would turn quite like this, leading Real Madrid and Barcelona in the title race. It is tempting to dismiss it as an example of multi-club structures distorting the game. It is also an example of smart thinking in a sport still short on it.
Alonso set to be a superstar coach
The circumstances at Bayer Leverkusen are a little different but they are another club surprising many by topping their table. Xabi Alonso's side are two points clear of Bayern Munich and it was a thrill to have an audience with Lothar Matthaus recently to discuss it.
Matthaus is a whirlwind of a presence, dominating the room, controlling the conversation just as he did the pitch in his playing days. He is unafraid of big statements – that habit sparked a spat with Bayern boss Thomas Tuchel after the Borussia Dortmund game.
Thomas Tuchel stormed out of his interview following criticism from Bayern Munich legends

Hearing him wax lyrical about Alonso earlier in the day, contrasting his style with Tuchel's, perhaps that was inevitable. Matthaus is so convinced that he believes Leverkusen can end Bayern's long reign and that their coach is destined for even bigger things.
It is a little early to look beyond what would be a sensational achievement but given Alonso's links to Liverpool, Real Madrid and Bayern themselves, it is natural to wonder where this coaching career could take him. Timing will be everything with that next step.
He showed real maturity in turning down an earlier offer from Borussia Monchengladbach in favour of gaining experience with Real Sociedad's B team. Saying no to the world's biggest clubs will be trickier. But Alonso has got everything right so far.