Aer Lingus is the flag carrier of Ireland. The airline goes back to 1936 when the carrier was called Aer Lingus Teoranta.
When you participate in the AerClub, the loyalty program of Aer Lingus, you earn Avios that are redeemable for award flights on Aer Lingus, as well as its partners British Airways and Iberia. You can even transfer Avios between these programs for free.
Here's your guide to Aer Lingus and its frequent-flyer program.
Headquartered in Dublin, Ireland, Aer Lingus flies to nearly 100 destinations in 23 countries, including the United States.
Combined with its partners, you'll be able to fly to about 150 destinations. The airline operates under three brands: Aer Lingus, Aer Lingus UK and Aer Lingus Regional.
Aer Lingus operates direct flights from Dublin and Shannon airports, as well as from Manchester, England, to the following U.S. cities.
When booking transatlantic Aer Lingus flights, you'll have a choice of several fare classes: Saver, Smart, Flex, Business and Business Flex. The higher the fare you purchase, the more extras will be included.
Each fare type includes the following items:
Saver
Carry-on bag (22 pounds/10 kilograms).

Small personal carry-on item.
Smart
Checked bag (one 50 pounds/23 kilograms bag in economy or three 50 pounds/23 kilograms bags in business class).

Eligible for a credit voucher.
Flex
Eligible for a cash refund (minus the fees).
Business
Complimentary Wi-Fi (on Airbus A330 and Airbus A321neo Aer Lingus aircraft).

Standby for earlier flight.

Fast Track through security at Dublin Airport.

Refundable fare (minus 15% and fees).
Business Flex
Aer Lingus business class aircraft
Aer Lingus operates three types of planes on its transatlantic routes: Airbus A330-200, Airbus A330-300 and Airbus A321neo LR.
Aer Lingus A321neo business class
Just 16 lie-flat beds are available in business class on the Aer Lingus Airbus A321neo plane. The seats are arranged in 2-2 and 1-1 configurations in a single-aisle cabin.
Aer Lingus A330-200 business class
Aer Lingus doesn't operate a ton of routes with an Airbus A330-200, but it's still possible you might fly this aircraft between Ireland and the United States, especially on routes from Dublin to either Los Angeles or San Francisco.
This business-class cabin features 23 seats arranged in a 1-2-2 or 1-2-1 configuration. The seats are 22 inches wide and provide 58 inches of pitch.
Aer Lingus A330-300 business class
The largest aircraft in the fleet, Airbus A330-300 more commonly operates Aer Lingus flights to and from the United States. The seats are the same size as its A330-200 counterpart, but because it's larger, you'll find 30 lie-flat seats arranged in a 1-2-1 or 1-2-2 configuration.
How to earn Aer Lingus Avios
Aer Lingus AerClub members earn Avios, the same currency shared by British Airways Executive Club, Iberia Plus, Vueling Club and Qatar Airways Privilege Club.
Earn by flying
You can earn AerClub Avios by flying Aer Lingus and its partners, such as British Airways and United Airlines.
On Aer Lingus flights, the number of Avios you'll earn is based on how much you spend on the ticket and the currency you used to pay for the flight:
4 Avios per 1 British pound.

2 Avios per Canadian dollar.
If you fly British Airways or United, you'll earn Avios based on the purchased fare class and the percentage of the distance flown.
Earn by spending on credit cards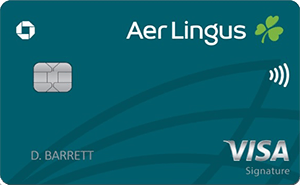 NerdWallet rating 
Read Review
Chase issues the Aer Lingus Visa Signature® Card. It earns 3 Avios per dollar spent on Aer Lingus, British Airways, Iberia and LEVEL; 2 Avios per dollar spent on hotel accommodations purchased directly from hotels; and 1 Avios per dollar spent on all other purchases.
The current sign-up bonus is: Earn 75,000 Avios after you spend $5,000 on purchases within the first three months of account opening.
Earn by transferring points
AerClub is a transfer partner of American Express Membership Rewards and Chase Ultimate Rewards®. Points transfer at a ratio of 1:1 in both cases.
If you have Marriott Bonvoy points, you can transfer them to AerClub at a ratio of 3:1, with a bonus of 5,000 Avios for every 60,000 Marriott points converted at once.
Transfer Avios from partners
Use avios.com to transfer Avios from either British Airlines or Iberia to Aer Lingus. If you need to transfer Avios from Qatar, use British Airways as an intermediary first and then follow the next step to transfer them to Aer Lingus.
What are Aer Lingus Avios worth?
NerdWallet values British Airways Avios to be worth 0.8 cent each. Because Avios can be transferred from British Airways to Aer Lingus, we'll say that they're worth the same. Keep this in mind and use it as a target value when redeeming AerClub Avios for flights.
How to redeem Aer Lingus Avios for maximum value
You can redeem Aer Lingus Avios for awards on Aer Lingus, British Airways and Iberia only, so you don't have many options to maximize the value. However, you still can get a decent deal redeeming Avios for award flights.
To redeem AerClub Avios, you have to log in on avios.com with your Aer Lingus credentials. The redemption rates depend on the distance you fly, the season and the class of service.
U.S. East Coast to Ireland on off-peak dates
One of the best Avios redemptions through Aer Lingus is for award flights between the East Coast of the United States and Ireland during off-peak season. The one-way mileage rate is just 13,000 Avios in economy class and 50,000 Avios in business class. You'll pay $116 to $138 in taxes, but it's still a great deal.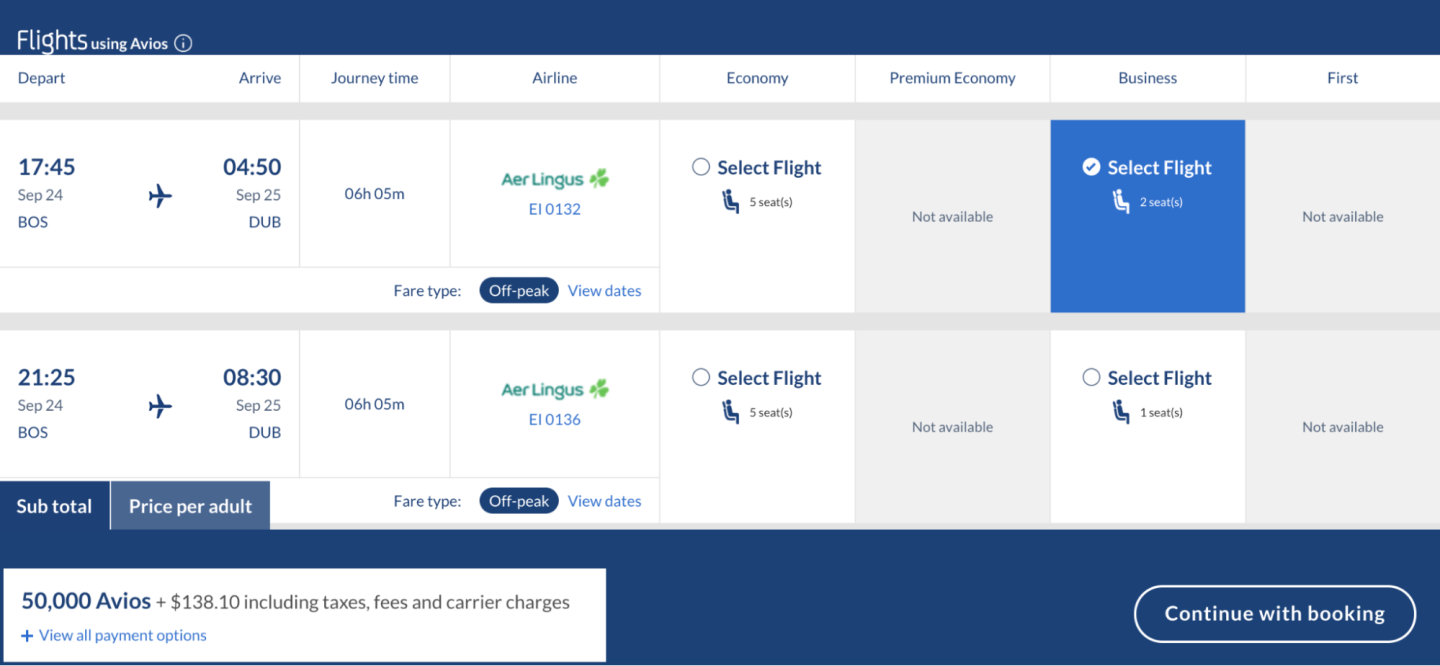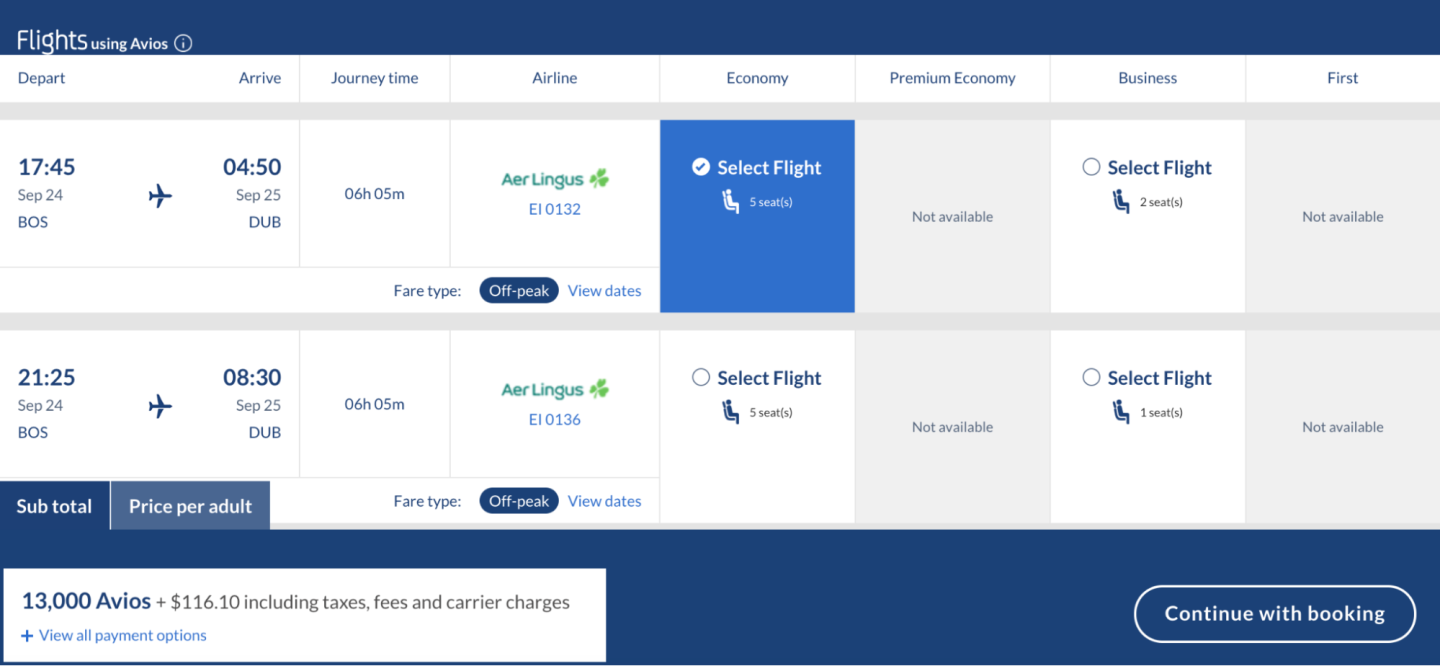 Ireland routes in the East Coast travel zone include:
U.S. East Coast to Europe on off-peak dates
If Ireland isn't your destination, you can connect to other European cities that Aer Lingus flies to for an additional 4,000 Avios. So, you'll redeem 17,000 Avios for an Aer Lingus economy flight anywhere in Europe on off-peak dates.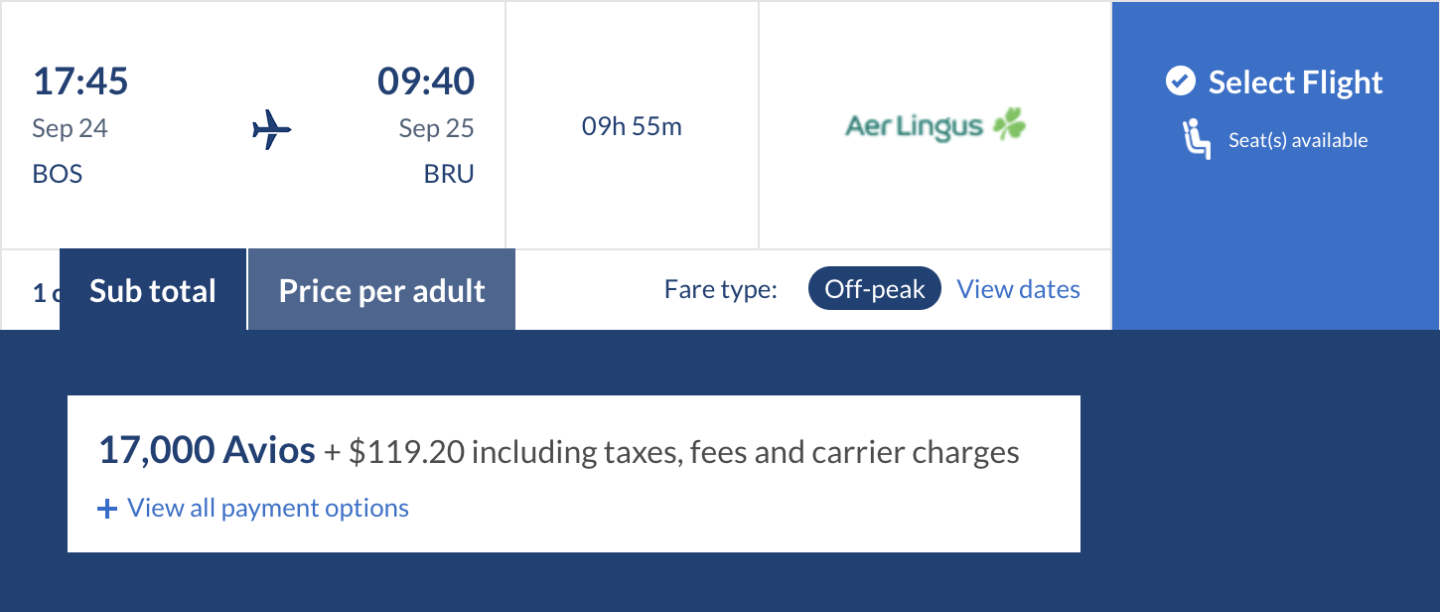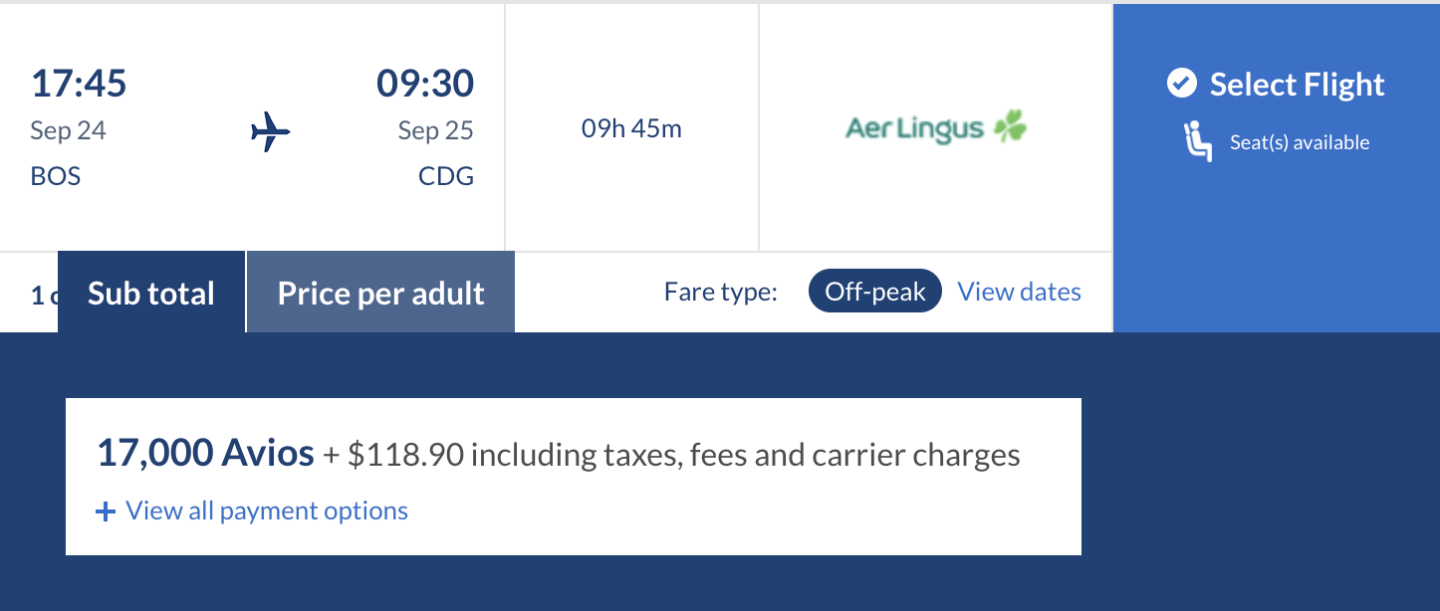 U.S. West Coast to Ireland on off-peak dates
West Coast residents can take advantage of some great redemption rates on routes to and from Ireland. A one-way economy flight is going to cost you 16,250 Avios, and a business class flight will cost 62,500 Avios.

Ireland routes in the West Coast travel zone include:
Aer Lingus AerClub, the elite status program
Status levels and benefits
Launched in 2016, AerClub is quite a newcomer to the airline loyalty program scene. It has four membership levels: Green, Silver, Platinum and Concierge. If you sign up for the AerClub program, you automatically become a Green member, so technically there are three elite tiers.
Depending on your elite level, benefits include priority check-in and boarding, lounge access, complimentary bags, complimentary upgrades, free Wi-Fi and waived change fees.
How to earn Aer Lingus elite status
Achieving elite status in the AerClub program requires earning Tier Credits, which are awarded based on your route and fare type. The more Tier Credits you earn within a qualification period, the more you progress in the elite levels. Keep in mind that only Aer Lingus ticketed and operated flights earn Tier Credits.
The qualification period is based on when you join AerClub, so make sure to remember the date you signed up as a member. The Tier Credits reset to zero annually on your anniversary date.
European flights earn a different number of Tier Credits than transatlantic flights ticketed and operated by Aer Lingus.
Here's how many Tier Credits you'll earn on flights within Europe: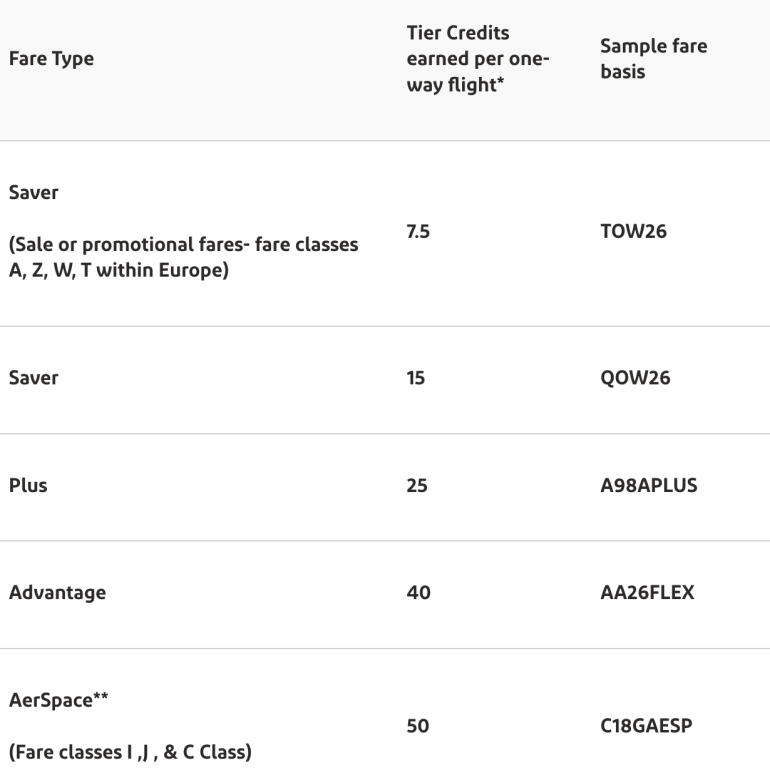 And here's how many Tier Credits you'll earn on transatlantic flights: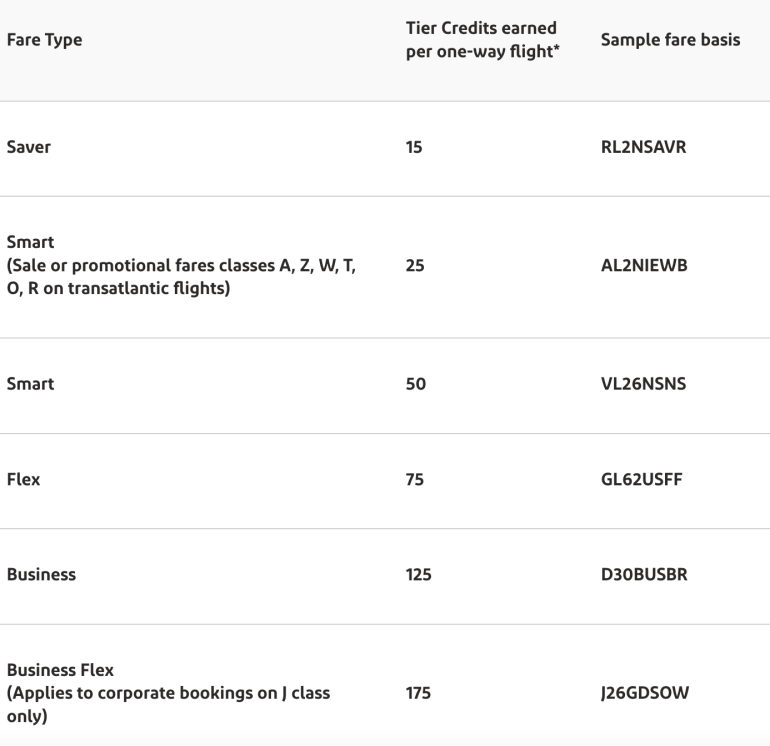 Keep in mind that the earning rates will change for travel after Oct. 1, 2023.
Aer Lingus AerClub recapped
As a relatively new airline loyalty program, AerClub still has a long way to go. Members can redeem Aer Lingus Avios for award flights on Aer Lingus or its partners. The option to transfer Avios to British Airways, Iberia and Qatar also greatly expands their use.
(Top photo courtesy of Aer Lingus)
How to maximize your rewards
You want a travel credit card that prioritizes what's important to you. Here are our picks for the best travel credit cards of 2023, including those best for: