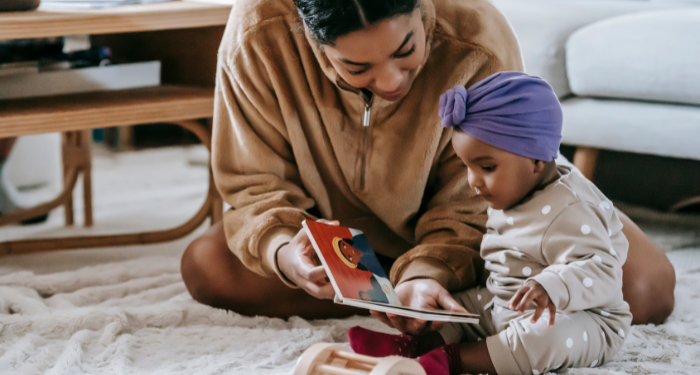 I have very few memories of my early years that don't involve books in some way. I got relatives to read to me at every possible moment, and my mum has often told me about how she used to put books in my pushchair while we were out and about. (She tried to do the same for my younger brother, but being a grabby toddler at the time, I always stole them.) I've always felt that being read to pretty much from birth was a major factor in my love of reading that continues to this day — much to the detriment of my long-suffering bookshelves, which can barely hold the weight of the books I've double-stacked on them.
One of my favourite things about working at my local library is seeing this love of reading being passed on to new generations. I'll regularly see families with toddlers and even babies coming in and heading for the picture book section. Tiny children always fill up the weekly Rhymetime sessions, where a volunteer reads stories and encourages the little ones to sing or shout along. The stock of board books is much-loved and much-chewed by the library's youngest visitors. Often, while I'm tidying shelves, I'll see adults sitting down and reading aloud to their babies while their older kids browse the children's section.
But is reading to babies really that important, especially when they're so young that words are little more than random noises to them? The research suggests that it is, and indeed, that reading to babies can have benefits beyond the obvious.
Books as Toys
The mention of books as a way to develop motor skills as well as vocabulary brings in an important aspect of giving babies access to books — at this age, the objects themselves count as toys. While books for older kids and adults can sometimes be beautiful works of art, there's something unique about the way baby books are designed to stand up to some very robust reader interaction. Baby books can have textures or lift-the-flap sections; some make noises, and some need physical engagement to reach their full potential (such as the many books that include holes to stick your fingers through to become wriggly worms, octopus tentacles, or other animal appendages).
Even the strongest baby book will eventually wear out, however, and anyone who has been around a baby for more than five minutes knows that their primary method of investigation is usually chewing. Most board books and fabric books can stand up to a certain amount of nibbling, but it's worth checking regularly to make sure that they aren't too ragged and that no small, easy-to-choke-on parts are about to be torn off.
If time is the issue, audiobooks can be a fantastic option. Apps like BorrowBox or Libby feature hundreds of audiobooks, including audio versions of picture books and other baby-friendly stories. If you're driving, tired, or busy doing something that means sitting down for a reading session isn't an option, an audiobook can still give your baby that helpful reading time.
---
When it comes to reading to babies, the evidence is clear: starting as soon as possible is the best way to create a lifelong book-lover. Reading is a fantastic way for different family members to bond with a new baby, including any older siblings, cousins, or other children who can read independently. While very new babies won't recognise the words at first, they'll certainly pick up on the sense of enjoyment and fun — and it won't be long before they're starting to build a mental library of their own favourite stories.
Looking for inspiration? Try 50 Must-Read Board Books for Babies. If your baby hasn't quite arrived yet, you can still get started on reading: have a look at our article on What to Read to Your Baby in Utero.